Activism and research in/on political violence: Reflections from Nicaragua
Organisation

International Institute of Social Studies

Start date

Monday, 9 Dec 2019, 16:00

End date

Monday, 9 Dec 2019, 17:30

Room

Aula A

Location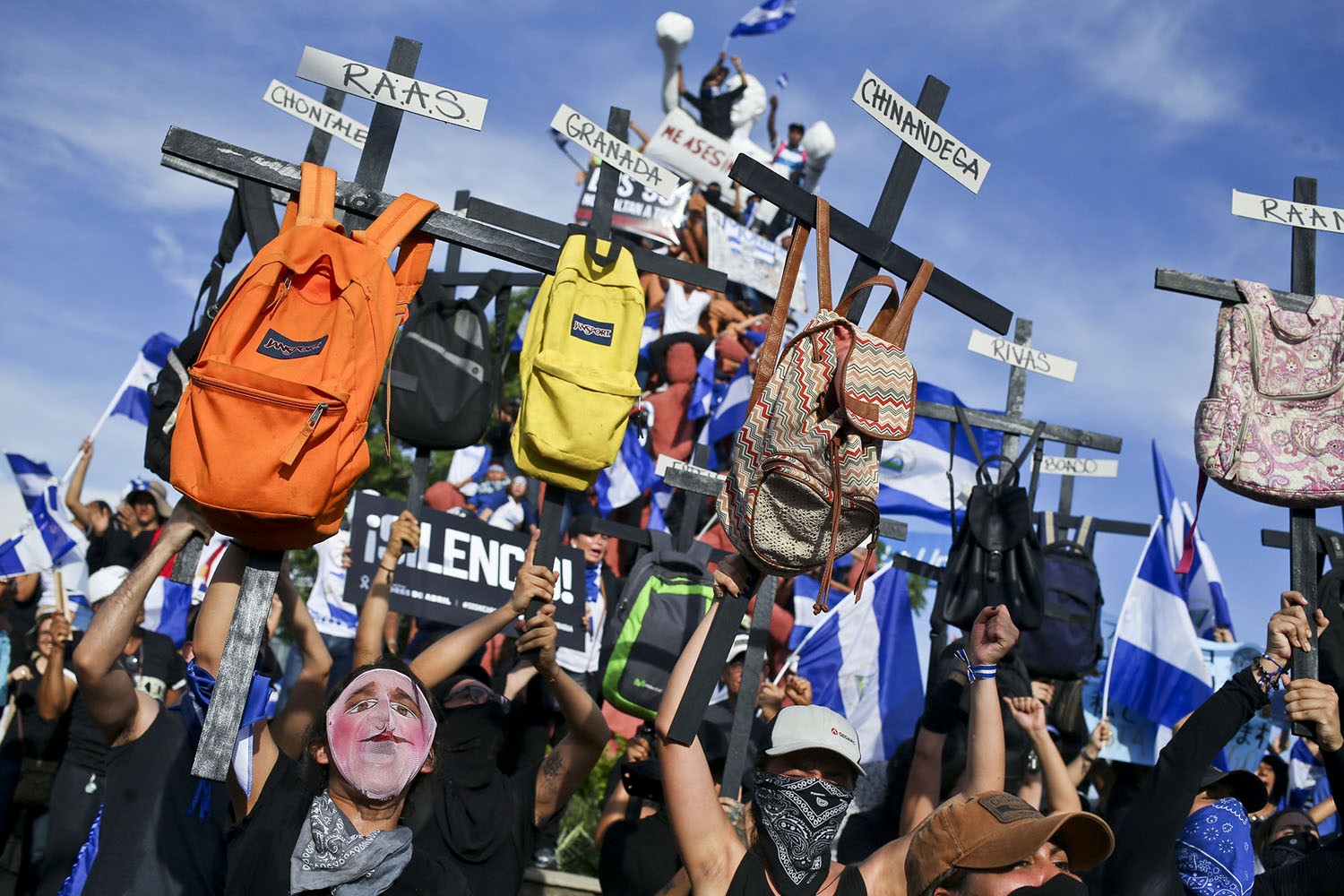 Nicaraguan activist-researchers from the students' movement, journalist sector, and self-organized collectives share their research and reflections on memory and political violence in the country after April 2018. 
Organized by the International Institute of Social Studies, the University of Bristol, SOS Nicaragua-Holanda and a group of Nicaraguan activist researchers.
Collective space 'Insurgencias Sentipensantes' - Sentipensar (Thinking-feeling) to understand and resist in the face of the lived violence(s) experienced in insurgent Nicaragua.
Photographer and social communications specialist (pre-recorded) - Of the 'muchachos', their names and their faces: how some dead count while others do not, in the context of political violence in Nicaragua.
Journalist and memory activist - Assault on the Cathedral: Memories of a collective kidnapping in the heart of the capital of Nicaragua.
Artist and activist from the student movement - 'Ser o Ceder' (To be or to give in). An analysis of the discourse and the construction of identity and demands of the student movement, in the context of the socio-political crisis and social protests in Nicaragua 2018-2019.
These presentations will be followed by a debate on protest and state violence in the Latin American region, and the challenges the latter poses both for social justice struggles and research. 
Language: Spanish (with interpretation into English where needed)
The event will be followed by a reception.
Activismo e investigación en/sobre violencia política:

Reflexiones desde Nicaragua

Organización: International Institute of Social Studies
Fecha: Lunes, 09 Dic 2019, 16:00-17:30
Sala: Aula A
Lugar: International Institute of Social Studies, Kortenaerkade 12, La Haya
Idioma: Español

Organizado por el International Institute of Social Studies, University of Bristol, SOS Nicaragua-Holanda y un grupo de investigadores-activistas de Nicaragua.

Investigadores-activistas de Nicaragua provenientes de el movimiento estudiantil, periodistas y colectivos auto-organizados comparten sus investigaciones y reflexiones sobre memoria y violencia política en la Nicaragua después de Abril 2018. 

Espacio de reflexión colectiva 'Insurgencias Sentipensantes' - Sentipensar para la comprensión y resistencia frente a las violencias vividas en la Nicaragua insurrecta.
Photographer and social communications specialist (pre-grabada) - De los 'muchachos', sus nombres y sus rostros: de cómo unos muertos valen y otros no en el marco de la violencia política en Nicaragua.
Periodista y activista - Asalto a la Catedral: Memorias de un secuestro colectivo en el corazón de la capital de Nicaragua.
Artista y activista del movimiento estudiantil - Ser o Ceder. Un análisis del discurso y construcción de la identidad y demandas del movimiento estudiantil, en el marco de la crisis sociopolítica y protestas sociales en Nicaragua 2018-2019.

A continuación de las presentaciones se abrirá un debate sobre protesta y violencia estatal en la región Latinoamericana, los retos que nos plantea tanto para las luchas por justicia social como para la investigación.

Idioma: Español (con interpretación al inglés para quienes lo necesiten)