Coloniality of gender, cyberfeminism & the poetics of resistance
Start date

Monday, 6 June 2016, 16:15

End date

Monday, 6 June 2016, 17:45

Location

Room 2.01, ISS
DRS 2016 Spring Series - Dialogues in Civil Innovation Research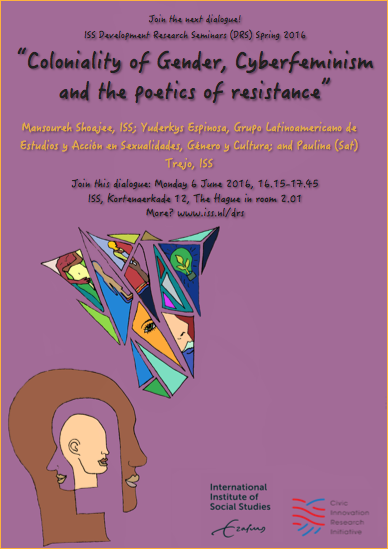 Feminist research is working to ensure that women's knowledge, voices & actions are present in political conversations, even if it has to be done in strategic and careful ways, not always following academic convention.
This DRS Dialogue on "Coloniality of gender, cyberfeminism and the poetics of resistance"  is a contribution to those political conversations by looking at the embodied experiences of resistance through art, poetry & story telling  http://blog.eur.nl/iss/ciri/2016/05/31/can-story-telling-unveil-experiences-violence-resistance/. The session will create an open co-productive space that explores embodiment, gender and power relations.
You are invited to join Paulina (Sat) Trejo Mendez and Mansoureh Shoajee (both ISS) together with Yuderkys Espinosa, GLEFAS (Grupo Latinoamericano de Estudios y Acción en Sexualidades, Género y Cultura) with translations by Rosalba Icaza and Wendy Harcourt (ISS) as they share their resistance to dominant definitions of sexuality, the body & gender relations. The speakers will share their personal-political struggle to claim control over their own biological, social and cultural embodied experiences as a vehicle for making and remaking the world.
Join this dialogue on 6 June 2016, 16.15-17.45hrs at ISS, room 2.01! Please share this invitation widely, also via facebook
---
Back to overview
Publication date: 3 February 2016
---