Week of Peasants' Struggles
Start date

Tuesday, 18 April 2017, 0:00

End date

Thursday, 20 April 2017, 0:00

Location

ISS
ISS student association, Scholas, and the Agrarian, Food and Environmental Studies Major are organizing a Week of Peasants' Struggles at ISS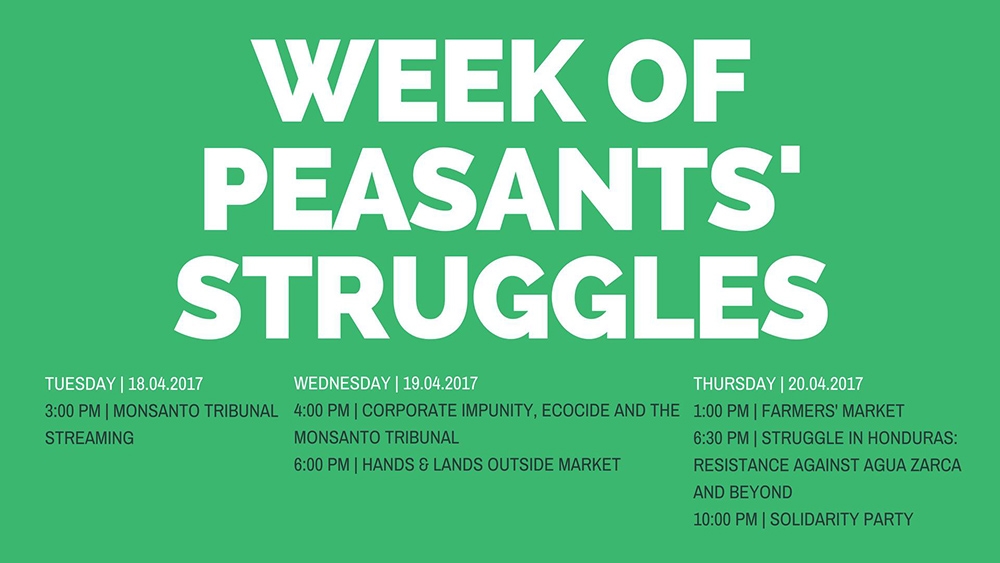 April 17 is called upon as a day for mobilizations around the world for the rights of peasants, for food sovereignty and against the repression of social movements.
On this day in 1996, 19 peasants were killed by the police in the north of Brazil while they were demanding land reform. Since then, rural social movements around the world, many of them organized in La Via Campesina, have mobilized around this date as an International Day of Peasant Struggles. We join this call for mobilization through a week of events at ISS.
Events over the three days include:
livestreaming of the Monsanto Tribunal Judges' legal opinions;
seminar and discussion on Corporate Impunity, Ecocide and the Monsanto Tribunal;
presentation on The Struggle for Peasants Rights + Hands & Land Outside the Market;
a Farmers' Market;
seminar on Struggle in Honduras: Resistance against Agua Zarca and Beyond.
The three-day events will be closed with a Party in Solidarity to Colombia.
---
Back to overview
Publication date: 18 April 2017
---