Meet Prof Judith Bessant and Prof Rob Watts.
Start date

Thursday, 6 July 2017, 16:00

End date

Thursday, 6 July 2017, 17:30

Location

ISS, room 3.01
During the event they will discuss their recent (2017) title: The Precarious Generation: A political economy of young people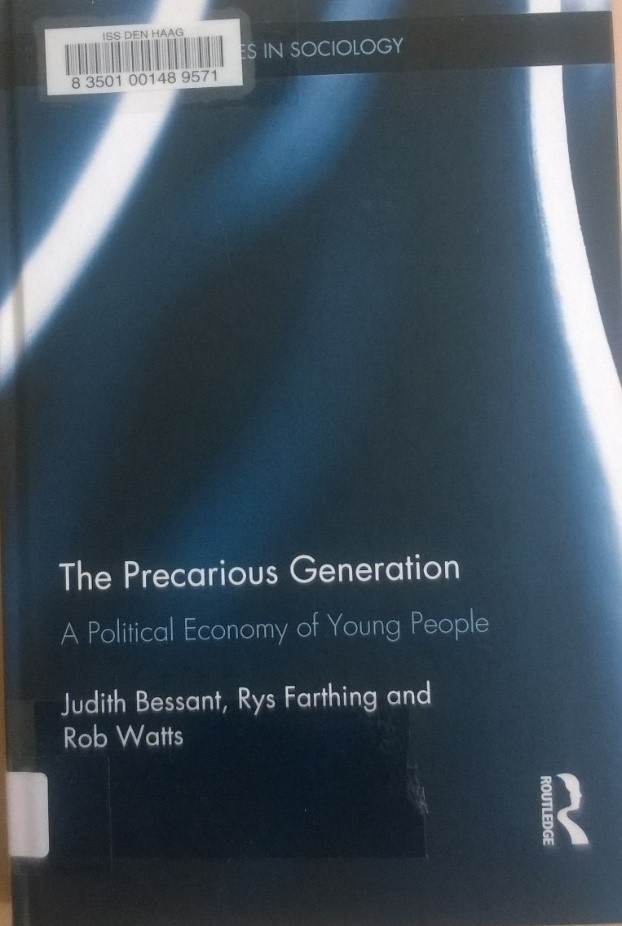 During the event they will touch on the following topics which are also discussed in their new title:
What is a 'political economy of generations'?
How does it inform our understanding of youth? What are its limitations?
How does it speak to youth questions such as un(der)employment / political activism / sexualities / migration?
Is this approach relevant to youth studies in contexts of development?
What might this book say about government policy and young people?
The event is Hosted by the Research Programme 'Political Economy of Resources, Environment and Population (PER)'
Judith Bessant is a Professor of Youth Studies and Sociology at RMIT University, Melbourne, Australia. She publishes in the fields of policy, sociology, politics, youth studies, media and history. Judith has also worked over the years with national and international governments and Non Government Organizations as an advisor.  Currently she is completing a book: The Great Transformation, Politics, Labour and Learning in the Digital Age, Routledge (2018). Recent books include The Precarious Generation: A Political Economy of Young People, Routledge (2017) with Rys Farthing and Rob Watts; Pickard, S., and Bessant, J., (eds), 2017, Young People and Re-generating Politics in Times of Crises, Palgrave (2017) ed with Sarah Pickard; and forthcoming Governing Youth Politics in the Age of Surveillance, Routledge, (2018) ed with Maria Grasso.
Rob Watts is Professor of Social Policy at RMIT University, Melbourne Australia. He teaches courses in global crime, policy studies, ethics and good practice, history of ideas, and Applied Human Rights. He has published widely. Recent books include States of Violence and the Civilising Process: on criminology and state crime (2016) and Public Universities, Managerialism and the value of the university (2017), and  The Precarious Generation: A Political Economy of Young People, Routledge (2017) with Judith Bessant and Rys Farthing.  Older books include The Foundations of the National Welfare State (1987), Arguing About the Australian Welfare State (Considine, & Beilharz) (1992), Discovering Risk: Social Problems in an Era of Globalization (with Bessant & Hil) (2003). He was a founding editor of the VCOSS-based journal Just Policy (1994-2006) a board member on JobWatch and established the Australian Center for Human Rights Education (ACHRE) at RMIT University (2008-2011).
---
Back to overview
Publication date: 13 June 2017
---