Dr Veena Srinivasan appointed to Prince Claus Chair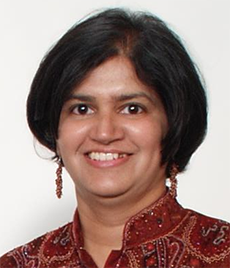 As of 1 September 2018, Dr Veena Srinivasan will hold the Prince Claus Chair at Utrecht University for her research into sustainable and inclusive food production in Asian delta regions.
With this position, Srinivasan is keen to not only contribute to delta and food research being conducted in Utrecht, but also to play a role in further intensifying collaboration between Dutch and Indian institutions.
Deltas in Asia are fertile areas, but are therefore also densely populated and bursting with economic activity. A great deal of food is produced in deltas, both for the domestic population and for export. However, due to their location on low-lying ground, these delta regions are vulnerable to river and coastal flooding. Construction to cater for the flourishing economy and growing population has caused additional subsidence, and the effects of this are already visible in food production.
Read the full description on the Prince Claus Chair website.
About the Prince Claus Chair
The Prince Claus Chair in Development and Equity is a chair that is held alternately by Utrecht University and the International Institute of Social Studies at Erasmus University Rotterdam. Exceptional young academics from developing countries are eligible for this position. Both institutions use the chair to advance research and education in the field of international development and equity, in line with the ideas and work of the late Prince Claus.
Professor Louise Gunning is the chair of the board of governors of the Prince Claus Chair. Queen Máxima is the patron of the chair.