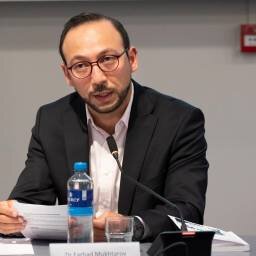 Assistant Professor
International Institute of Social Stuies
Location

Kortenaerkade 12, 's - Gravenhage

Room

I3-29

Email
‹

Back to overview
Profile
Dr. Farhad Mukhtarov is Assistant Professor of Governance and Public Policy at International Institute of Social Sciences (ISS), Erasmus University Rotterdam. Dr. Mukhtarov is specialised in environmental and water governance and is particularly fascinated by the politics of knowledge, problem framing, knowledge pluralism, and the role of context in shaping policy. In his Ph.D. research, Dr. Mukhtarov examined how a powerful global discourse on Integrated Water Resources Management had been actively promoted internationally and how it had translated into national and local policy arenas in England, Turkey and Kazakhstan. Subsequently, Dr. Mukhtarov developed interest in understanding and steering the travel of (water) policy models…
Dr. Farhad Mukhtarov is Assistant Professor of Governance and Public Policy at International Institute of Social Sciences (ISS), Erasmus University Rotterdam. Dr. Mukhtarov is specialised in environmental and water governance and is particularly fascinated by the politics of knowledge, problem framing, knowledge pluralism, and the role of context in shaping policy. In his Ph.D. research, Dr. Mukhtarov examined how a powerful global discourse on Integrated Water Resources Management had been actively promoted internationally and how it had translated into national and local policy arenas in England, Turkey and Kazakhstan. Subsequently, Dr. Mukhtarov developed interest in understanding and steering the travel of (water) policy models across various boundaries (e.g. organisational, disciplinary, cultural and nation-states) - the major leitmotif of his research. 
In addition, Dr. Mukhtarov researched nature conservation policy in Vietnam, setting up of water user associations in Azerbaijan, Turkey and Kazakhstan, and development of global discourses on water governance. His latest project, in the context of a large European Union funded Horizon 2020 project, investigated collaborative learning in the context of flood risk management in Leicester (United Kingdom), water conservation in Milton Keynes (United Kingdom), water reuse in Sabadell (Spain), and community gardening in Jerusalem.
Farhad is also an Adjunct Senior Research Fellow at the Institute of Water Policy at National University of Singapore. Dr. Mukhtarov held faculty and (visiting) research appointments at the University of Oxford, Utrecht University, Delft University of Technology, Vrije Universiteit Amsterdam, and ADA University. His Ph.D. is from Central European University (magna cum laude, 2009) and MSc. is from Manchester University and Central European University, both degrees are in Environmental Sciences and Policy. He regularly blogs at www.policytranslation.eu.
Farhad's latest research is available at Researchgate.
J. Boer, C. Dieperink & F. Mukhtarov (2019). Social Learning in Multilevel Flood Risk Governance: Lessons from the Dutch Room for the River Program. Water, 11. doi: 10.3390/w11102032
J. Pinyol Alberich, F. Mukhtarov, C. Dieperink, P.P.J. Driessen & A. Broekman (2019). Upscaling Urban Recycled Water Schemes: An Analysis of the Presence of Required Governance Conditions in the City of Sabadell (Spain). Water, 11 (1):11. doi: 10.3390/w11010011 [go to publisher's site]
F. Mukhtarov, C. Dieperink & P. Driessen (2019). Collaborative learning for policy innovations: sustainable urban drainage systems in Leicester, England. Journal of Environmental Policy & Planning, 21 (3), 288-301. doi: 10.1080/1523908X.2019.1627864
F. Mukhtarov & Ch. Leong (2018). Global IWRM Ideas and Local Context: Studying Narratives in Rural Cambodia. Water, 10 (11), 1-17. doi: 10.3390/w10111643 [go to publisher's site]
F. Mukhtarov, C.J. Dieperink & P.P.J. Driessen (2018). The influence of information and communication technologies on public participation in urban water governance: A review of place-based research. Environmental Science & Policy, 89, 430-438. doi: 10.1016/j.envsci.2018.08.015
F. Mukhtarov, R. Pierce & A. Gerlak (2017). Away from Fossil-Fuels and Toward a Bioeconomy: Knowledge Versatility for Public Policy? Environment and Planning C: Government and Policy, 35 (6), 1010-1028.
F. Mukhtarov, W.M. de Jong & R. Pierce (2017). Political and ethical aspects in the ethnography of policy translation: Research experiences from Turkey and China. Environment and Planning A: International Journal of Urban and Regional Research, 49 (3), 612-630.
A. Gerlak & F. Mukhtarov (2016). Many Faces of Security: Discursive Framing in Cross-border Natural Resource Governance in the Mekong River Commission. Globalizations, 13 (6), 719-740.
A. Thiel, F. Mukhtarov & D. Zikos (2015). Crafting or Designing? Science, Politics and Conditions Determining Processes of Intended Institutional Change for Social-Ecological Systems. Environmental Science & Policy, 53 (B), 81-86. doi: 10.1016/j.envsci.2015.07.018
F. Mukhtarov, S. Fox, N. Mukhamedova & K. Wegerich (2015). Institutional Design in the Face of Contextual Relevance: Water User Associations in Turkey, Azerbaijan and Uzbekistan. Environmental Science & Policy, 53 (B), 206-214. doi: 10.1016/j.envsci.2014.10.006

E. Gaddis, J. Grellier, A. Grobicki, R. Hay, N. Mirumachi, F. Mukhtarov & W. Rast (2019). Freshwater Policy. In UN Environment (Ed.), Healthy Planet, Healthy People: The Sixth Global Environmental Outlook (pp. 399-424). Cambridge: Cambridge University Press
A. Gerlak & F. Mukhtarov (2018). Many Faces of Security: Discursive Framing in Cross-border Natural Resource Governance in the Mekong River Commission. In Koff, H. and Maganda, C. (Ed.), Environmental Security in Transnational Contexts: What Relevance for Regional Human Security Regimes? (pp. 67-89) London: Routledge
F. Mukhtarov & K. Daniell (2018). Transfer, diffusion, adaptation and translation of water policy models. In K. Conca & E. Weinthal (Eds.), Oxford Handbook of Water Politics and Policy (pp. 594-616). Oxford: Oxford University Press
F. Mukhtarov & A. Thiel (2018). Purposeful institutional change for Adaptive Governance of Natural Resources: How to Cater for Context and Agency? In T. Marsden (Ed.), Sage Handbook of Nature (pp. 143-160). London: Sage [go to publisher's site]
F. Mukhtarov (2017). Reflexivity, Positionality, and Normativity in Studying Policy Translation. In Tobias Berger & Alejandro Esguerra (Eds.), Translation in World Politics (pp. 114-133). London: Routledge

F. Mukhtarov (2018). Special Festschrift "Ways of knowing: Helen Ingram and water scholarship" [Bespreking van het boek Ways of Knowing: Helen Ingram and Water Scholarship]. Water, 11(1), 209-2013.
F. Mukhtarov (2017). Policies on the move: Translation, assemblages and ethnography [Bespreking van de boeken A policy travelogue: Tracing welfare reform in Aotearoa/New Zealand and Canada. & Fast policy: Experimental statecraft at the thresholds of neoliberalism & Making policy move: Towards a politics of translation and assemblage & Speaking truths to power: Policy ethnography and police reform in Bosnia and Herzegovina.]. Environment and Planning C: Government and Policy, 35(1), 191-194.

Assistant Professor

University

Erasmus University Rotterdam

School

International Institute of Social Stuies

Country

The Netherlands

National University of Singapore

Additional Information

I am an Adjunct Senior Research Fellow at the Institute of Water Policy at Lee Kuan Yew School of Public Policy, National University of Singapore.

Role

Adjunct Senior Research Fellow

Start date approval

May/2016
Address
Visiting address
Kortenaerkade 12
2518 AX 's - Gravenhage
Postal address
Postbus 29776
2502 LT 's-Gravenhage