Lecture by Professor Gloria Wekker
Organisation

International Institute of Social Studies

Start date

Friday, 15 Nov 2019, 16:00

End date

Friday, 15 Nov 2019, 18:00

Spoken Language

English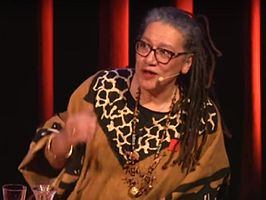 The Diversity and Inclusion team of the International Institute of Social Studies has invited professor Gloria Wekker to give a lecture entitled 'Beyond White Innocence'.
In her presentation Gloria Wekker will explore the concept of race as a highly underestimated part of our general knowledge production in the Netherlands. What is the version of race that we, the Dutch, practice?
I understand race as a silent but powerful organizer of our culture, of our own self-representation and the representation of the Other, our language and institutions and of society as a whole. I will present some everyday case studies of racism, as it is evident on TV and in everyday encounters.
In my book White Innocence (2016), I investigate the ways in which we keep the myth alive that four hundred years of imperialism have not left any traces in the Netherlands. To that end, I will explore the cherished self-narratives that we, the Dutch, like to tell ourselves about who we are and point to the stark discrepancies that exist with those narratives. It is White Innocence that enables us to hold on to those beloved narratives.
About the speaker
Gloria Wekker is Emeritus Professor of Gender and Ethnicity at Utrecht University. As a social and cultural anthropologist, she specializes in Gender Studies, Sexuality Studies, Arican-American and Caribbean Studies.
Upon attaining a Master's degree in 1981 from the University of Amsterdam, Wekker was admitted to the University of California where she worked on her doctoral dissertation on Afro-Surinamese women's sexuality and in 1992 graduated with a PhD. After working as a teaching associate and Assistant Professor in the United States, she returned to the Netherlands in 1993 taking up research and teaching positions at the Royal Netherlands Institute of Southeast Asian and Caribbean Studies (KITLV) and Utrecht University. She became a full Professor at Utrecht University in 2001.
She has also worked as a policy advisor and consultant to various Dutch government ministries on topics related to ethnic minority, women's emancipation and health policy. Her publications include White Innocence: Paradoxes of Colonialism and Race (Duke University Press, 2016) and The Politics of Passion: Women's Sexual Culture in the Afro‐Surinamese Diaspora (Columbia University Press, 2006).
More information

The Diversity and Inclusion team at the International Institute of Social Studies (ISS) aims not only to detect and change what is wrong and needs to be improved, but, more importantly, to initiate a collective inward reflection to identify and acknowledge our own in-house expertise and our best diversity and inclusion practices in research, teaching and student mentoring.