Research on decolonization or decolonizing research? Perspectives from the margins
Organisation

International Institute of Social Studies

Start date

Wednesday, 19 Jun 2019, 16:15

End date

Wednesday, 19 Jun 2019, 17:45

Room

Aula A

Location

Spoken Language

English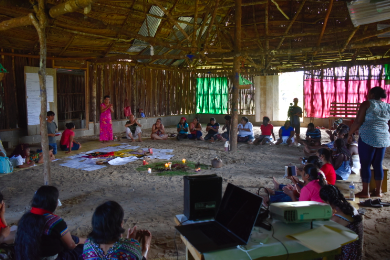 During this seminar, the speakers will share examples of conversations, collective writing practices, and collective-action driven research that have co-created common themes around concurrent dramas, breaking social isolation and impunity. 
In particular, they will share how previously broken social tissue is weaved back together while plural truths beyond the narrative of academic 'universalized single truth' are unraveled via the narrative language of resistances.
Professor Xochitl Leyva from CIESAS Mexico, Dr Christiane Stephan from University of Bonn, and Professor Patricia Botero from Unitierra, Colombia and Color de la Tierra will hold a seminar entitled 'Research on decolonization or decolonizing research? Perspectives from the Margins'.
In this seminar, Professor Xochitl Leyva will discuss her reflection based on the paper 'Decolonizing Anthropologists from Below and to the Left' from a situated knowledge position on her moral and political commitments with indigenous peoples who work for their self-determination in the face of institutional and systemic forces.
Based on her experiences in alternative transnational and local networks, she will reflect on three debates within both academy and activism:
the long road of decolonizing anthropology;

the embodied and incardinated theory of various feminisms;

the rise of other epistemologies, ontologies, and practices.
Professor Patricia Botero will share practices of decolonizing research conducted with communities in resistance, constructing their plural autonomies as contributions to deconstruct dominant canons in Western sciences and research.
Professor Xochitl Leyva

Xóchitl Leyva Solano from Chiapas, Mexico is a political activist and academic researcher, who studies power relations and social movements through the lens of political anthropology. In recent years she has dedicated special attention to the indigenous Zapatista-movement, following a collaborative approach with marginalized groups, revealing 'otros conocimientos' ('other knowledge') and at the same time questioning language, theories and paradigms of western academia.

Professor Patricia Botero

Patricia Botero has a PhD in Social Sciences, Child and Youth from Universidad de Manizales and CINDE, Colombia. She is teacher and researcher at the Center for Independent Studies and at Autonomous Publishing House 'Color Tierra'. This centre and publishing house is a collaborative project that involves Collective Weavings of Universidad de la Tierra, Manizales-Caldas, the South-West Colombian, the Campaign 'Pacific Otherwise' is Possible, and the Group 'Academics Defending the Colombian Pacific', Gaidepac. Her work focuses in narrative research and research processes from the perspective of collective action and decolonization.

Dr Christiane Stephan

Christiane Stephan currently works as post-doctoral researcher at the Department of Geography at the University of Bonn. She is also an artivist working on topics of women's rights and dignity in various spaces around Germany, Mexico and Kenya.

She has experience in doing research not as an 'atomized, individualized' researcher but in 'co-labour', which since then has been a constant point of reflection, hope and challenge. Using visual methods and various sensory methods, she tries to discover new ways of co-creating and communicating research together with a network of friends, research partners and colleagues. In a new research project, she looks into arts and media 'imaginations of the future'.