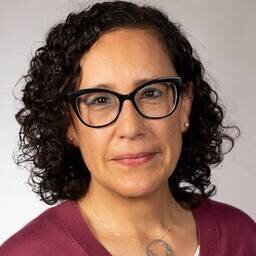 Associate professor
International Institute of Social Studies
Academic staff unit
Location

Burg. Oudlaan 50, Rotterdam

Email
‹

Back to overview
Profile
*"My research and teaching have been driven by an overwhelming concern to understand resistance to multiple oppressions and the ways in which one's understanding is mediated by memories of physical repression experienced by labor, indigenous and feminist leaders with whom I used to work in Mexico City" *
Before coming to ISS and the Netherlands, I was an activist in Mexico City working for a network of social movements opposing the North American Free Trade Agreement (NAFTA). In 1999, I moved to the UK to conduct postgraduate studies. By 2005, I had obtained my PhD from the University of Warwick (UK) under the supervision of Professor Jan Aart Scholte on the political economy of transborder civic resistance to open/neo-liberal regionalism. Thereafter, I moved to Swedent thanks to a EU-Commission Marie Curie Fellowship to work at the University of Gothenburg with Professor Edme Dominguez on the gendered character of these transborder resistances. 
As an International Relations/Studies person, my research was for a while focused on mapping paths of civic engagement on regionalisms across the world. Since arriving to ISS in 2007, its intercultural and multidisciplinary environment deeply impacted me personally/professionally.Today, I explain my research agenda as one that seeks to understand how place-based social resistances contribute to global epistemic justice. In so doing, I am not circumscribed to a particular discipline anymore and my latest publications have had a variety of target audiences (i.e. IR, global, cultural and gender studies, sociology, etc.).
Below there is a description of my four different but interconnected areas of research:
I Decolonial thinking and 'the international': How can one revisit the modern/colonial character of notions such as region, regionalism, social resistance and global justice? My way of working this question has been through the identification of decolonial trajectories in knowledges and cosmovisions that have been actively produced as backward or 'sub-altern' by hegemonic forms of understanding on 'the international' (including liberalism, Marxism, some feminisms, post-structuralism and the current IR hype on "Quantum Thinking"). Post-development and decolonial thinkers such as Escobar, Esteva, Mignolo and Lugones have been crucial for my understanding of the epistemic violence of eurocentrism.
II Thinking the academia in the promotion of autonomy: In which ways the academia can contribute to sustain forms of epistemic dissent aiming at promoting global social justice and autonomy? In exploring this question I have been involved in different collaborative research initiatives including the Transnational Network Other Knowledges  (RETOS) and the International Consortium "Tejiendo Voces" (www.tejiendovoces.org.mx).
III Learning as liberation/liberation of learning: I am interested in the application of action-research methodologies in my teaching and research and committed to facilitating spaces for mutual learning between practitioners and academics. My pedagogical practices are inspired by Third-world, Chicana, Black and de-colonial feminist theories and epistemologies. I have collaborated with Professor Gustavo Esteva (UNITIERRA-OAXACA) and Dr. Rolando Vazquez (University College Roosevelt) in the Going Glocal initiative - co-financed by the Dutch ministry of Foreign Affairs as a pioneering effort in education and research on global citizenship in The Netherlands (www.goingglocal.nl).
IV Plural feminisms for plural liberations: I am deeply interested in inter-cultural dialogues among different strands of feminisms. I have been exploring the ideas of coalitional politics as developed by Maria Lugones and the points of convergence and divergence between decolonial and post-colonial feminisms.
I welcome PhD students and post-Doctoral fellows interested in any of these broad areas of research. 
J Smith, K Karides, M Becker, D Brunelle, C Chase-Dunn, D Della Porta, Rosalba Icaza Garza, JS Juris, L Mosca, E Reese, PJ Smith & R Vazquez (2014) - Global Democracy and the World Social Forums (2nd ed.) - Paradigm
Rosalba Icaza Garza, J Smith & M Karides (2008) - Global Democracy and the World Social Forums - Paradigm Publishers
J Smith, M Karides, M Becker, D Brunelle, C Chase-Dunn, D della Porte, Rosalba Icaza Garza, JS Juris, L Mosca, E Reese, PJ Smith & R Vazquez (2008) - Global Democracy and the World Social Forums - Paradigm Publishers

Rosalba Icaza Garza (2020) - Feminismos Decoloniales y Desarrollo - Universidad del Pais Vasco & Institute for International Cooperation and Development Studies
Rosalba Icaza Garza (2020) - Feminismo descolonial y política global : pensando desde las fronteras y la vulnerabilidad como una forma de aprendizaje "otro" - [link] - Universidad Autonoma de Mexico (UNAM)/Instituto de Investigaciones Economicas
G Wekker, A Gosine & Rosalba Icaza Garza (2019) - Política, pasión y sexualidad entre las mujeres de la diáspora afrocaribeña en los Países Bajos - [link] - Consejo Latinoamericano de Ciencias Sociales (CLACSO)/RETOS
Rosalba Icaza Garza & T Diaz Nerio (2019) - La Casa de Barro en Ámsterdam: la importancia de los espacios rebeldes - [link] - Consejo Latinoamericano de Ciencias Sociales (CLACSO)/RETOS
Rosalba Icaza Garza (2019) - Sentipensar los cuerpos cruzados por la diferencia colonial - [link] - Consejo Latinoamericano de Ciencias Sociales (CLACSO)/RETOS
Rosalba Icaza Garza (2018) - Social Struggles and the Coloniality of Gender - doi: 10.4324/9781315671192 - Routledge
Rosalba Icaza Garza (2018) - #Yamecanse Activismo Transnacional de México en redes sociales y el feminismo decolonial (Forthcoming) - Editorial Mora/Instituto de Investigaciones Historicas
Rosalba Icaza Garza (2018) - Translation from Spanish to English of "Undoing Colonial Patriarchies: life and struggles pathways" by Xochitl Leyva Solano - Routledge
R Vazquez & Rosalba Icaza Garza (2018) - Diversity or Decolonization? Researching Diversity at the University of Amsterdam - Pluto Press
Rosalba Icaza Garza & S Jong (2018) - Introduction: Decolonization and feminisms in global teaching and learning - a radical space of possibility - [link] - Routledge
Rosalba Icaza Garza (2017) - The Permanent Peoples' Tribunals and Indigenous Peoples' Struggles in Mexico - doi: 10.1017/9781108368360.009 - Cambridge University Press
Rosalba Icaza Garza (2017) - Prólogo - El Colegio de la Frontera Sur (ECOSUR)
Rosalba Icaza Garza & R Vázquez (2017) - Notes on Decolonizing Development - [link] - Wissenschaftsverlag Mainz
Rosalba Icaza Garza (2017) - Decolonial Feminism and Global Politics: Border Thinking and Vulnerability as a Knowing Otherwise - [link] - E-International Relations Publishing
Wendy Harcourt, Rosalba Icaza Garza & V Vargas (2016) - Exploring embodiment and intersectionality in transnational feminist activist research - Routledge
Rosalba Icaza Garza & RV Rolando Vazquez (2016) - The Coloniality of Gender as a Radical Critique of Developmentalism - Palgrave Macmillan
Rosalba Icaza Garza & Tamara Soukotta (2016) - Bandung as a Plurality of Meanings - Rowman and Littlefield
Larissa Barbosa da Costa, Rosalba Icaza Garza & Angelica Maria Ocampo Talero (2015) - Knowledge about, knowledge with: dilemmas of researching lives, nature and genders otherwise - Zed Books
Rosalba Icaza Garza (2015) - (Re)pensando el regionalismo UE-AL desde las redes de resistencia y solidaridad - Universidad Sergio Arboleda
Rosalba Icaza Garza (2015) - Testimony of a Pilgrimage. (Un)learning and Re-learning with the South - Lexington Books
J Smith, Marina Karides, M Becker, D Brunelle, C Chase-Dunn, D Della Porta, Rosalba Icaza Garza, JS Juris, L Mosca, E Reese, Peter (Jay) Smith & R Vasquez (2014) - Globalization and the Emergence of World Social Forums - Oxford University Press
Rosalba Icaza Garza (2013) - Acercamientos Radicales a las Relaciones Internacionales [Radical Approaches to International Relations] - Oxford University Press
Rosalba Icaza Garza (2013) - Global Europe, Guilty! Contesting EU Neoliberal Governance for Latin America and the Caribbean - Routledge
C Gregorio Gi, E Rey, M Montenegro & Rosalba Icaza Garza (2012) - Simposio ¿Que Significa ser Ciudadana Hoy en America Latina? - [link] - Centro de Derechos Humanos, Facultad de Derecho, Universidad de Chile
Rosalba Icaza Garza (2012) - ¿(Re)Thinking the ¿New¿ North America through Women¿s Citizenship Struggles in Mexico - University of Toronto Press
Rosalba Icaza Garza, P Newell & M Saguier (2010) - Citizenship and Trade Governance in the Americas - Zed Books
Rosalba Icaza Garza (2009) - NAFTA parity in real time and the `making¿ of the EU-Mexico transatlantic partnership - Ashgate
Rosalba Icaza Garza (2009) - Regionalism in the Americas - Praeger Press
Rosalba Icaza Garza (2008) - The End of Neoliberal Regionalism in Mexico? - Wilfrid Laurier University Press
Rosalba Icaza Garza (2007) - El Movimiento pro-Regionalismos Alternativos frente a la Nueva Relación Estratégica América Latina, Caribe - Unión Europea. Reflexiones desde una perspectiva de género - Göteborg University, School of Global Studies, Institute of Iberoamerican Studies
Rosalba Icaza Garza (2007) - El Movimiento pro-Regionalismos Alternativos frente a la Nueva Relacion stratica America Latina, Caribe - Uniuropea Reflexiones desde una perspectiva de giro. - University of Gothenburg
Rosalba Icaza Garza (2004) - Sociedad Civil y Políticas de Regionalización en México. Un análisis sobre la Gobernación, el Poder y el Activismo Transnacional en la Globalización - Editorial Miguel Ángel Porrúa/ADLAF/IAI

Kees Biekart & Rosalba Icaza Garza (2011) - Knowledge dialogues with Central American social movements
Rosalba Icaza Garza (2009) - Whose Prosperity and Security? Mexican Women Citizenships
Rosalba Icaza Garza (2009) - North American Regionalism and Women's Citizenship: Views from Urban/Rural Mexico
Rosalba Icaza Garza (2008) - Civil Society and Regionalisms in the Americas (Workshop paper from International Forum of Montreal on Regionalism and Civil Society, Montreal, Canada, 11-12 February 2008)
Rosalba Icaza Garza (2008) - Civil Society and the Quest for Citizenship and Alternative Regionalisms in Mexico (Workshop paper from International Studies Association Annual Conventions, San Francisco, California, March 26-29th, 2008)
Rosalba Icaza Garza (2008) - Democratizing Trade Politics in the Americas: Insights from the Feminist Movement (Workshop paper from Hemispheric Summit Against Free Trade Agreements and Neo-liberalism, Universidad de la Havana, Hemispheric Social Alliance, Havana, Cuba, April 7-11th 2008)
Rosalba Icaza Garza (2008) - Global Democracy through Regions. Civil Society Contributions" a Prospective Contribution to Building Global Democracy Program (Workshop paper from Building Democracy, Convening Group Meeting, Warwick University, Centre for the Study of Globalization and Regionalization, Coventry, England, April 24-25th, 2008)
Rosalba Icaza Garza, P Newell & M Saguier (2008) - Democratizing Trade Politics in the Americas: Insights from the Feminist, Environmental and Labor Movements (Workshop paper from Workshop on Citizenship in a Globalizing World, Institute of Development Studies, Sussex, England, October 17th 2008)
Rosalba Icaza Garza (2007) - Civil Society and the Politics of Global Trade in Mexico: Engendering while Democratizing (Paper presented at the international conference on "Politics, Policy And Responsible Scholarship" organised by International Studies Association (ISA) on 1 March in Chicago, USA)
Rosalba Icaza Garza & R Vazquez (2007) - Chiapas Rebellion and the Battle of Seattle: Understanding Transborder Resistances as Political Events (Paper presented at the international conference on "Politics, Policy And Responsible Scholarship" organised by International Studies Association (ISA), Chicago, USA on 1 March in Chicago, USA)
Rosalba Icaza Garza, P Newell & M Saguier (2007) - Democratising Trade Politics in the Americas (Paper presented at the conference on "Working Group on Citizen Engagement in a Globalising World" organised by DRC IDS-Sussex on 9-11 October in Brighton, UK)
Rosalba Icaza Garza (2007) - NAFTA Parity in Real Time: Understanding the Democratic Implications of EU Regionalism towards Mexico and Central America (Paper presented at the conference on "Garnet WP3 Workshop 3" organised by UNU-CRIS and GARNET on 9 November in Brugge, Belgium)

G Wekker, M Slootman, Rosalba Icaza Garza, Hans Jansen & R Vazquez (2016) - Let's do Diversity. Report of the University of Amsterdam Diversity Commission - University of Amsterdam
Kees Biekart & Rosalba Icaza Garza (2011) - Knowledge dialogues with Central American social movements: synthesis research report - International Institute of Social Studies (ISS)
Rosalba Icaza Garza & R Vazquez (2008) - INFORME NARRATIVO "Diego de Conocimientos Encuentro de Activistas y Organizaciones Sociales de Chiapas y Centro Amica (Evaluation Report, HIVOS-ISS Knowledge Program) - ISS
Rosalba Icaza Garza, S de Jong & O Rutazibwa (25 October 2019) - Scholen zijn zo gebouwd dat ze ons moeten scheiden, in plaats van samen te brengen - Scholen zijn zo gebouwd dat ze ons moeten scheiden, in plaats van samen te brengen
Rosalba Icaza Garza (2018) - "Decolonial Feminism and Development" [webinar] - initiated by the EADI Working Group "Postcolonial Perspectives on and within Development (Studies)"

Rosalba Icaza Garza (2018) - Tijdschrift voor Genderstudies (Journal)
News regarding dr. (Rosalba) RA Icaza Garza