Reshaping the politics of food, climate, labour and citizenship
How do contemporary global commodity rushes ('land grabs') reshape the politics of food, climate, labour, citizenship and geopolitics in different contexts?
What are the implications of such new regimes, in terms of structural, institutional and political shifts?

'Commodity & land rushes and regimes: Reshaping five spheres of global social life' (RRUSHES-5) sets out to answer these questions. It focuses on three countries which have been global hotspots of commodity and land rushes: Ethiopia, Myanmar and Colombia.
Guided by a multi-disciplinary theoretical framework and grounded in empirical work, the project will engage in practical policy questions aimed at probing the potential for socially just and ecologically sustainable reforms.
This project – funded through the prestigious European Research Council (ERC) Advanced Grant – is led by Professor Jun Borras. The team furthermore comprises Dr Tsegaye Moreda, Dr Yunan Xu and several global and national research collaborators.
Why is this research relevant?
Recent global commodity rushes have profoundly influenced societies across the globe. At least a quarter of a billion hectares of land have been affected, reshaping livelihoods and social and political relations. Contemporary commodity rushes are more complex and far-reaching than those we have seen before, requiring new thinking and practice in order to respond to such unprecedented challenges.
This project will change the way we study the recent commodity and land rushes, demonstrating why and how they concern not only the 3.5 billion people who live in rural areas, but the entire world population.
Outputs
Working paper series
Land Rush Working Paper & Notes is a series of exploratory papers by RRUSHES-5 researchers
Books
Agrarian Change and Peasant Studies: Little Books on Big Issues - Initiatives in Critical Agrarian Studies small book series
Reports
Journal articles
Wang, C and Xu, Y 2022 'Reflecting on the Plantationocene: the political economy of sugarcane plantations in Guangxi, China' The Journal of Peasant Studies, June 2022
Borras, S.M., et al 2022 'The value of so-called "failed" large-scale acquisitions' Land Use Policy, Volume 119, August 2022
Ofstehage, A, Wolford, W, Borras, S.M. 2022 'Contemporary populism and the environment' Annual Review of Environment and Resources, Volume 47
Borras, S.M. et al 2021 'Climate change and agrarian struggles: an invitation to contribute to a JPS Forum' The Journal of Peasant Studies, Volume 49, Issue 1
Franco, J.C., Borras, S.M. 2021 'The global climate of land politics' Globalizations
Doi Ra, Sai Sam Khan, Barbersgaard, M., Franco, J.C., Vervest, P. 2021 'The politics of Myanmar's agrarian transformation' The Journal of Peasant Studies, Volume 48, Issue 3
Borras, S.M., Franco, J.C., Ra, D. et al. 2021 'Rurally rooted cross-border migrant workers from Myanmar, Covid-19, and agrarian movements' Agric Hum Values (2021).
Doi Ra, Khu Khu Ju 2021 'Nothing about us, without us': reflections on the challenges of building Land in Our Hands, a national land network in Myanmar/Burma' in Journal of Peasant Studies, Special Forum: Politics of Myanmar's Agrarian Transformation 
Borras, S.M., J.C. Franco, Z. Nam 2020 'Climate change and land: Insights from Myanmar' in World Development, Vol. 129 May 2020
Agrarian Conversations webinars
Episode 1 - 27 January 2021
Episode 2 - 28 April 2021
Research team and collaborations
The project collaborates with academic institutions and civil society.
Eva Broer (RRUSHES-5 Research Project Manager)
Jo Baskott 
Adinda Ceelen (Knowledge Broker & Research Communication)
Chaya Raghoenath (RRUSHES-5 Finance Manager)
Contact the research team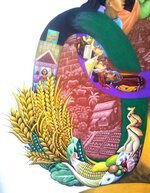 If you would like more information about this research project, please contact Professor Jun Borras